KLEVA KLIP ADJUSTABLE SUPPORT (MULTI PURPOSE) 90 - 150mm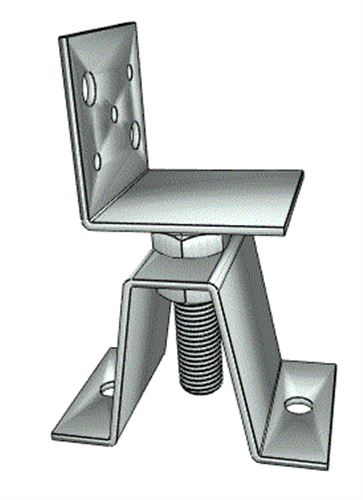 KLEVA KLIP MULTI PURPOSE SUPPORT
Multi Purpose Support
The KlevaKlip Multi purpose support (MPS) has been designed as a mid-sized support to cater for the "gap" in the market for decks that are a bit too high for our "Adjustable joist support" and a bit too low for our "Adjustable bearer support".
The Multi Purpose Support has excellent adjustability, along with the strength and versatility to be used with either bearer/joist combinations, or with joists on their own. It is quick and easy to assemble. All parts are fully hot dip galvanised.
Height Levels "Bottom of Joist"
Minimum height with locking nut – 100 mm
Minimum height without locking nut – 90 mm
Maximum design height – 150 mm