HARDIE EXOTEC FACADE PANEL (9mm)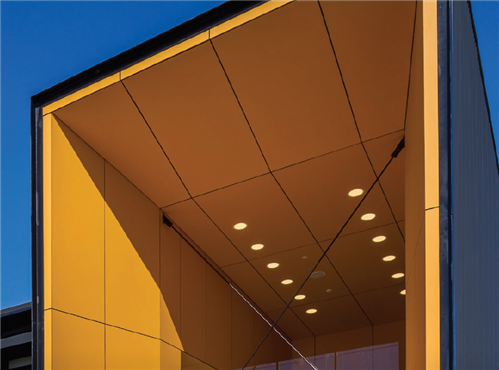 A facade panel with expressed jointing system
ExoTec® is a compressed fibre cement (CFC) facade panel. Known for its durability, the ExoTec panel is designed as part of an expressed-jointed system, its fully sealed, low-maintenance and being CFC it has a high impact resistance.
Perfect for commercial facades, fascias and soffits
It's designed to be installed on the face of a building but can also be used in an eave, soffit and fascia. It can either be painted on-site or factory finished off-site full wrap panel or composite designs in primarily low or high rise commercial buildings.
Durable, low-maintenance and impact resistant
The compressed fibre cement (CFC) sheet structure delivers high levels of impact resistance, making it a smart choice for commercial areas that are prone to wear and tear.
The reliable proprietary fixing system makes commercial installations fast, easy and cost-effective.

A wide range of decorative paint finishes can be used, including site-applied acrylic textures and factory-applied polyurethane plain and metallic colours.

Panel patterns such as vertical, horizontal and staggered layouts – fixed with a choice of either countersunk concealed fasteners or exposed screw heads.
No allowances needed for the

designer and installer to allow for

panel expansion or contraction resulting from weather change, because the compressed panels are sealed on all sides, making it very stable, and the design of the proprietary fixing system helps to absorb any building movement.
Up to 60 minutes Fire Rating when used with HardieSmart™ wall systems.
The compressed panels are sealed on all six sides to improve moisture resistance. Added to this, the proprietary ExoTec® Gasket Snap Strip provides an initial weather seal which further improves moisture management and building soundness.
ExoTec facade panel is resistant to damage from termites, rot and fire.*