BREMFIX CHEMICAL INJECTION ANCHORS 300ml CARTRIDGE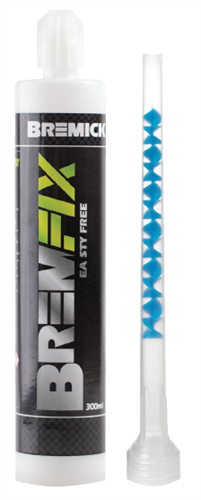 BREMFIX EPOXY ACRYLATE STYRENE FREE 300ml CARTRIDGE
BremFix Epoxy Acrylate styrene free low odour resin is a high performance, rapid curing two part chemical anchoring system based on epoxy acrylate.
Extruded through a static mixer this resin will produce a cost effective, strong, chemical resistant fixing.
Key Features
• Used in wet holes & underwater.
• Good chemical resistance.
• Medium & heavy duty load applications.
• Non-flammable & non-hazardous.
• Ideal for indoor usage (low odour).
Main Application Types
• Large diameter & deep embedment fixings.
• Rebar fixing.
• Diamond drilled holes.
• High loading.
• Areas of chemical exposure.
• Dynamic loads.
• Wet and underwater.
• Slower curing.