FLOORING PARTICLEBOARD RED TONGUE H2 TERMITE (T&G) 3600 x 900 x 19mm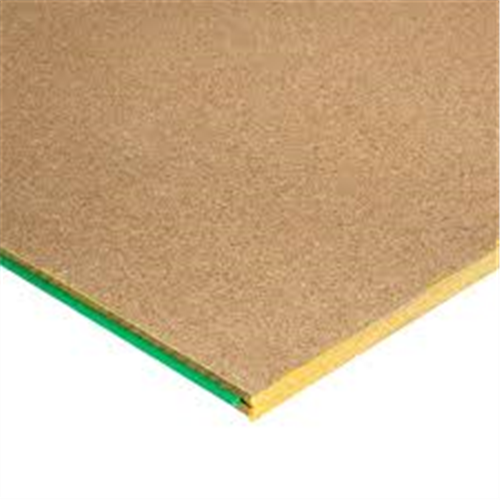 FLOORING PARTICLEBOARD BEIGE TONGUE STANDARD (T&G) 3600 x 900 x 22mm
Particleboard Flooring is a three layered particleboard, bonded with moisture resistant resin and wax, specifically formulated for use as interior flooring. It is suitable for all domestic housing as well as commercial installations, provided it is installed to the requirements of AS 1860 (Installation of Particleboard Flooring). Particleboard Flooring can be used for a variety of framed building constructions including fitted floor, upper storey and platform constructions.
Product range - Particleboard Flooring has a plain core colour with a yellow wax edge seal to all edges. There are two product thicknesses each identified by the colour of their PVC tongue: • Green tongue (19mm) – For use with floor joists spaced at 450mm • Beige tongue (22mm) – For use with floor joists spaced at 600mm Particleboard Flooring is available in different sheet sizes. There is also the option of Termite Treated Particleboard Flooring and Brown Tongue (25mm) for commercial applications.
Moisture resistance – General information Particleboard Flooring is capable of withstanding general weathering for up to 3 months. To maintain best practice, boards must be covered on building sites. It is recommended to avoid where possible, exposure of the panels to severe conditions, such as prolonged exposure to intense sun, cyclic soaking rain etc, as these exposures have the potential to alter the moisture gradient of the panels and may cause dimensional change, similar to natural timber. A moisture level of about 7% is present in the board at the time of despatch from the warehouse. For further information refer: AS/NZS 1860.2: Particleboard Flooring Part 2 Installation. Thermal properties Thermal conductivity – 0.1 – 0.14 W/mk. Dimensionally stability and strength is unaffected over normal temperature range. Acoustic properties Sound transmission loss depends on the building element and its method of installation. Particleboard with thickness over 16mm should achieve 25dB loss. Fire resistance Trade Essentials® Particleboard Flooring is combustible. Burning is limited by charcoal formed on the board surface. The rate of burning is comparable to that of natural timber of similar density.
Installation instructions
1. Assess the site Ensure correct sub-floor clearance and ventilation as per Australian Standard 1860 "Installation of Particleboard Flooring", or local building regulations. Particleboard Flooring is not suitable under conditions of permanent dampness, i.e. where particleboard moisture content is permanently in excess of 16 per cent moisture content.
2. Positioning and fixing Locate a string line parallel to the perimeter of the floor and at right angles to the joists. Fit the first new row of sheets with the tongued edge to the string line. This will ensure edge straightness. Tongue and grooved edges must run parallel to the span and sheeting must span no less than two floor joist spacings. Fix second sheet in a similar manner inserting plastic tongue into the groove of sheet one. Be sure to apply bead of adhesive to tongue prior to installation.
DO NOT cramp or over-tighten. After each row is laid, fully nail or screw the previous row (refer to the fixing pattern). Install all sheets with the same face upwards, to ensure flush mating of adjoining faces. Butt joints should be staggered in alternative rows to give a rigid floor.
Handy hints: Laminex recommends Construction Adhesive for this application. This is a high performance, fast setting synthetic rubber based adhesive, specially formulated for the permanent and speedy installation of structural sheet flooring panels, in conjunction with supplementary mechanical fastenings. If the tongue and grooved profile is changed to a square edge during trimming or cutting of sheet, re-profile the edge with a circular saw and insert a tongue, or alternatively use as square edged Particleboard Flooring. Where Particleboard Flooring is used in square edge form, the sheets should be laid with their long edges supported by noggings or trimmers. Sheet butt joints must be staggered.
3. Fixing technique Particleboard Flooring may be fixed on the subfloor with hand or power-driven fasteners. For a rigid squeak-free floor system, ensure a continuous 5mm bead of Trade Essentials® Construction Adhesive is applied to all joists and along the top of the tongue. Two beads of adhesive need to be placed on the joist where the butt joint occurs. DO NOT apply too far ahead as adhesive cures quickly. At all times follow instructions on the adhesive pack. Where gun nailing, nail heads should not penetrate the surface by more than 1.0mm. Adjust air pressure to suit softwood or hardwood joists. Gun nail only in accordance with gun nail specifications. Galvanised nails are recommended. Nails should be punched below the surface of the sheets just before the sanding or laying of floor coverings. This ensures firm seating of the flooring joists. Particleboard Flooring that is likely to be subjected to increased levels of traffic vibration should be fixed with spiral or helical shank nails.
4. Types of construction 4.1 Platform floor construction Platform flooring construction involves flooring laid on the floor joists over the whole floor area prior to the erection of the wall and roof framing. Trade Essentials® Particleboard Flooring is capable of withstanding general weathering for up to 3 months. Less exposure however, is recommended. To maintain best practice, packs of Particleboard Flooring should be protected from the weather before installation. Particleboard Flooring will expand and contract as sheets respond to changes in atmospheric moisture. Allowance for the movement must be made throughout the floor area by providing gaps and special joints as appropriate to accommodate sheet expansion. An expansion joint is a 20mm gap in flooring sheets located above a wide (50mm minimum) or double joist. Extra joist area is necessary so that sheet ends can be properly fixed while still allowing the 20mm gap. The joint may be covered by a metal or plastic moulding, screwed into the joist, or partitioning may be located over the joint. Spacing of expansion joints should be between 10 and 20m with the final decision depending upon the assessment of whether: • the floor is elevated or on ground level • the area is air conditioned • it is a tropical region (coastal area, north of 27th parallel) • what moisture variations are likely in the flooring Exposure to very hot sun, particularly after the board has been soaked by rain, may cause panel shrinkage and cupping. If this occurs, then light wetting of the board and shading of the site may help minimise the effect by slowing the rate at which the flooring dries. DO NOT stack heavy concentrated loads on the floor, e.g. bricks, heavy structural materials. DO NOT use the floor as a mixing table and avoid build up of plaster, concrete and paint on the floor. 4.2 Fitted floor construction Fitted floor construction involves construction of the floor after the internal walls. An expansion gap of 1–2 mm per metre of room dimension (10mm minimum) should be left around the room perimeter. This is usually covered by the skirting board. For large floor areas an expansion joint should be provided.