AIRCO FYP75310 GAS x 3 FRAMING NAIL PACK BRIGHT PK3000 75 x 3.1mm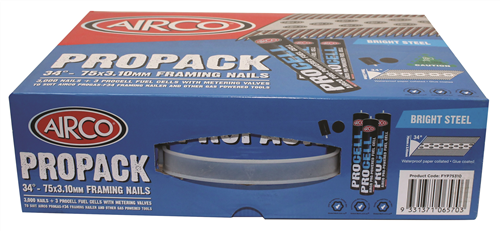 AIRCO PROPACK NAILING / GAS PACK BRIGHT STEEL PK3000 75 x 3.1mm
Introducing "PROPACK", Airco's NEW framing nail gas packs.

Combining Airco's 34 degree, 75 x 3.10 framing nails with the new PROCELL PRO – POWERED cells.

A lot of time on R&D has been spent to ensure the PROCELLS are professional quality and will work in Australian conditions.

This pack includes 3,000 bright steel framing nails, 3 PROCELL fuel cells and metering valves to suit old and new style tools.
SAVE money on GAS & NAILS
3,000 nails per box
3 fuel cells per box
Comes with OLD & NEW style valves
COMPATIBLE with other leading brands.