LEAD (DPC) DAMPCOURSE 20kg/m2 - 3.0M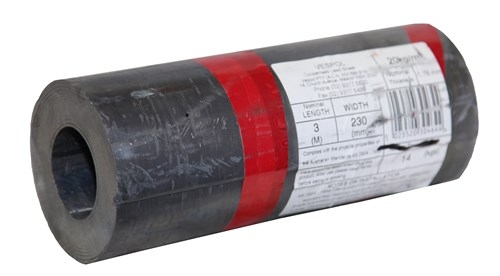 LEAD DPC 3.0M X 20KG
SHEET LEAD DAMPCOURSE & FLASHING.
TECHNICAL INFORMATION:
DESCRIPTION: Lead is made from a specified copperised lead alloy.
USES: 20kg/m2 damproofing, exposed roof flashing, noise isolation, waterproofing and radiation shielding. Also used for flashing roof penetrations, such as skylights, chimneys and pipes, etc.
FEATURES: Lead is a corrosion resistant material able to withstand many years of exposure to weather.Lead has the softness and ductility to be dressed down and formed on site to fit roof contours without splitting or cracking.
GRADES: 20kg/m2 x 3m rolls.
NOMINAL WIDTHS: 110mm, 150mm, 230mm, 300mm, 350mm, 450mm and 600mm.
NOTE: To accommodate thermal movement, lengths of lead should not exceed 1.5m in length. Where long flashings are required overlapping should occur.
LEAD DAMPCOURSE COMPLIES TO AUSTRALIAN STANDARD. AS 2904 : 1995.