PINE FRAMING MGP10 H2 BLUE TREATED 70 x 35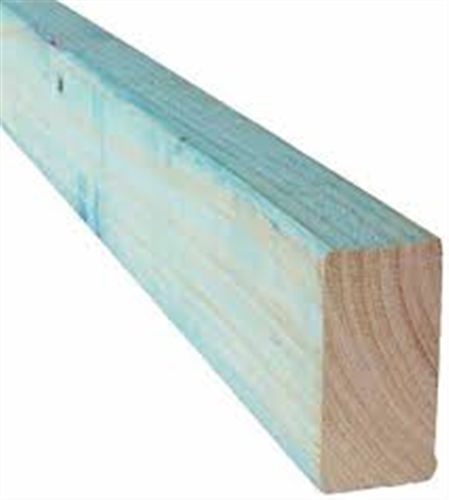 Structural Pine - Framing & Wides
Produced using predominately plantation pine as well as sustainably managed forests. Each piece is manufactured to comply with Australian standards. Available structural grades are MGP10 and MGP12. Machine Graded pine is available as Untreated as well as H2/T2 Blue Termite treatment, suitable for areas south of the tropic of Capricorn and H2 Red Termite treatment which is suitable for areas north of the tropic of Capricorn.
As we all know, the required Hazard level will have a bearing on the available treatment options, termite and fungal treatment for outdoor structural pine is H2/T2, Light Organic Solvent Preservative (LOSP), with most of the outdoor building project typically requiring H3 treatment (excluding posts in the ground which require H4 treatment). Treatment and Hazard classes are shown on individual sticks of timber, either in the form of a stamp or a stapled tag.
For structural projects, the stress grade of the timber is also important. Timber is stress graded so that it can be classified into groups that achieve the same basic structural design properties. These properties include, for example, bending stiffness and strength, tension strength and compression strength. Timber sold in Australia is stress graded as either MGP (Machine Graded Pine) or F (either visually or machine graded). While most treated pine sold in Australia is either MGP10 or F7, other grades such as MGP12, MGP15 and F5 are also available. Grade is also shown on individual sticks of timber along with treatment and hazard class. The industry is often asked why it offers pine products in both MGP10 and F7 grades when they appear to be similar products; this is a great question!
In terms of product performance, both MGP10 and F7 grades meet Australian standards. Stiffness and strength are the two main properties to consider when deciding which grade is better suited to a project. MGP10 has a higher stiffness grade while F7 has a slightly higher strength grade. If plans have been provided, it is important to purchase the exact grade of timber specified to ensure that structural integrity is maintained. If not, you can confidently choose either grade.
| | |
| --- | --- |
| Weight (KG) | |
| Volume (M3) | |
| Height (M) | |
| Width (M) | |
| Depth (M) | |